deutsch
KDiff3 plugin

Among the programs used to compare files and show the differences (Diff programs), one stands out: Open-Source freeware KDiff3 can compare or merge up to three files. Reason enough for blechtrottel.net to develop a plugin for phase 5.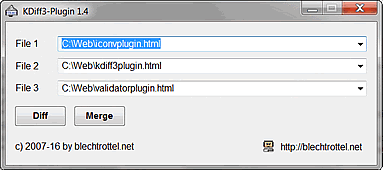 version history
Version 1.4 (April 2016)
* little tweaks in the GUI
* some of the code rewritten
Version 1.3 (April 2016)
+ GUI is DPI-aware, i.e. will adapt to the general settings for the font size
Version 1.2 (November 2008)
now supports filepaths containing spaces
Version 1.0 (July 2007)
installation
Download and install KDiff3.
From kdiff3.zip copy the files KDiff3.exe, %1-Zwischenablage.exe and kdiff3.ini in the plugins folder of phase 5.
In kdiff3.ini, change the path to kdiff3.exe in the program. Done!
usage
Open one or more files in phase 5 and select KDiff3 in the Tools menu. The plugin will read the filepaths and names of all the numbered tabs and open a window with up to three lists. If necessary, change the order and selection of the files and select the mode (Diff or Merge): The files are opened in KDiff3.
remarks
KDiff3 plugin can only read out information from the tabs via the phase 5 GUI. This leads to a certain amount of flickering when tabs are changed and the Tools menu is activated.
Our utility %1-Zwischenablage adds filepath and name of the active tab to the clipboard. You may use it for your own plugins, as long as they are freeware.
KDiff3.exe was created using a freeware script-program named AutoIt.
The plugin was tested under Windows XP. Suggestions, comments and criticism are welcome.
PS: freeware & viruses
All programs by blechtrottel.net are of course free of any virus. But they may be wrongly accused by some virus programs. Why this sometimes happens - to us and others - can be read on this info page.